Oh how happy I am to have this resource available for all of you!  If you have a small amount of internet skill under your fingers, you can follow the above link to get a digitized recording of the choral movements from the Bach Cantata we are working on.  There are wonderful and blessed people on the internet that have spent much time working on giving accurate and reliable recreations of these works in ways that make it possible to practice almost anywhere the internet is.  
If you click the link above, you will get to this page... It may look a little confusing, but look closer (or at the poorly marked up photo below...) and you'll see a couple things: 1) you'll see an audio player, cued up to Movement 1 in the middle of the page. Most importantly with this is the box below the light gray oval.  You'll see in the picture below the second row of boxes is highlighted. This second row allows you to adjust how fast the movement plays.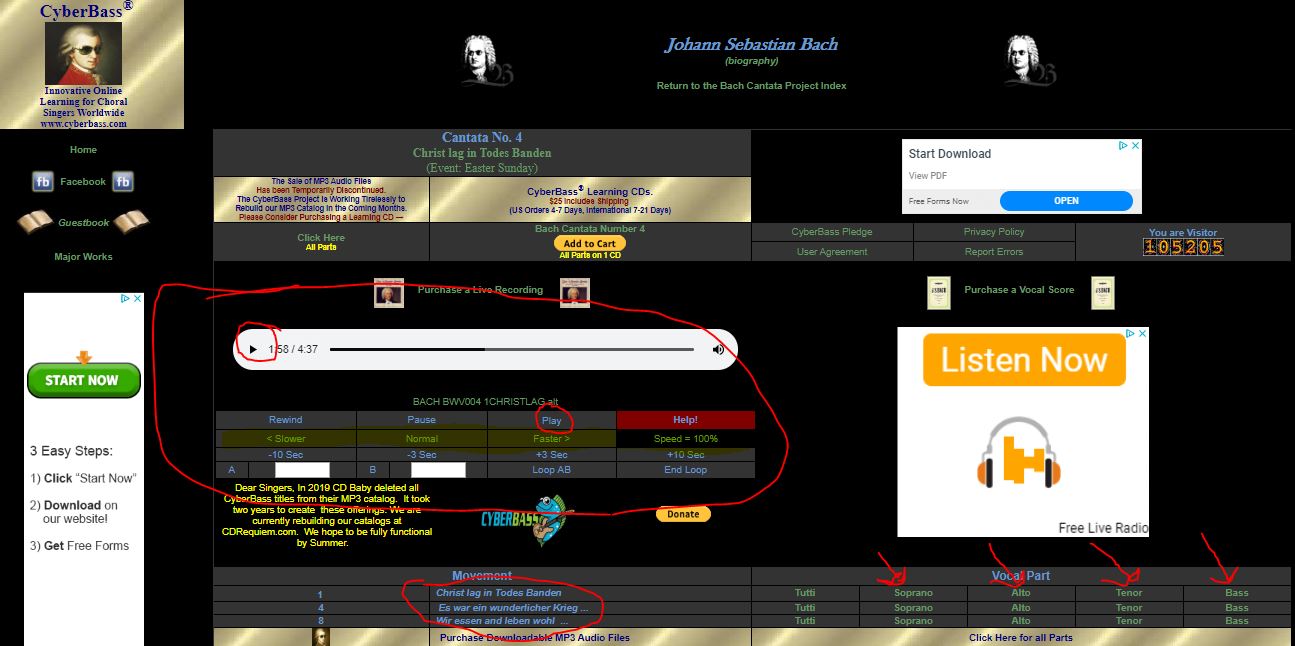 The second most important part of the box are the voice parts indicated in the bottom right.  You can listen to the full movement with all four parts balanced, or you can prioritize your part by selecting it.  Now, to help make it possible to learn entrances and hear the other parts, the three voice parts that aren't yours will appear in the LEFT speaker/channel.  The RIGHT speaker/channel will have the part you selected only.  I was studying the alto part in this recording using earbud style headphones, and this meant if I took out the left earbud I only heard the alto part in my right ear, and the full ensemble when I used both ear buds.  Helpful to know!!!
Best of all, this resource is FREE!!!  Now... if you are not particularly internet savvy, you are able to purchase these tracks online and own them so you can take them with you on a CD or anything you'd like, but for the sake of time, I wanted to get this resource out as soon as I found it.  Plus, I was halfway through inputting the tenor line in a notation program when I found it, meaning... Doug gets to go to bed tonight!!! I am going to continue to input the parts, so I can eventually provide a completely isolated sound recording with a bit more appealing of a tone than the harsh MIDI piano sound, but wow, what a blessing to find!!!
Enjoy your continued study of the Bach Cantata. Eric and I were so pleased with how well you have tackled the difficulty in this piece. We feel so blessed and humbled to be taking this journey with you! Look for more tracks to come soon!
-DH